Burton Custom 2017
The Burton Custom is one of the most famous and longest running snowboard models. It is a freestyle board, that has a traditional camber profile, a directional shape and a medium flex rating.
Features of the Burton Custom 2017
Camber
The traditional camber is the profile that gives you the most pop, stability and edge hold. It isn't necessarily the easier profile to ride, but it gives you a really good ride if you are going to put the work in. Ollies will snap back nicely, and it has a very stable feel.

Directional Shape
There board has a directional shape, so it will ride slightly nicer in the regular direction, but there still won't be any problems if you want to ride it switch.
Twin Flex
Although it has a directional shape, the flex on the board is the exact same no matter which way you ride it. So that means that pressing or ollieing will feel the same in both regular and switch directions.
Super Fly II 700G Core
The core is made up of a combination of strong and light woods, to keep the weight down but still keep it strong. The Super Fly II core is in the middle of the range of cores that Burton offer, with the lightest they have being only 500g and the heaviest being 900g.

Dualzone EGD
The grain of the core along the toe and heel edge is perpendicular to the rest of the core, to give a little more strength (and they say add edge hold).
Squeezebox
The core has a profile that changes from thick to thin, which gives it more flexible sections, as well as much stronger sections.
45 Degree Carbon Highlights
The 45 degree fiber give the board a more aggressive ride.
Sintered WFO Base
It's a hard a fast base material, that is infused with wax to keep it moving fast in all conditions.

The Channel
They work best with Burton EST bindings, but you can pretty much put any brand of bindings on a Channel board without a problem now. You get much more options for stance width, and angles with a Channel board.
Frostbite Edges
The edges extend out a little bit under your bindings, which help to give you extra edge hold on icy days.
Pro-Tip
Fancy name for tapered tip and tails, which keep the weight down and make it a bit easier to spin around.
Infinite Ride
The boards are built stronger than they need to be, and then put in a machine that "breaks in" the board. It is made so that you end up with a board that is already broken in from new, so that it will have the same flex, pop and feel from new that it does at the end of the season.
Sizes Available:
148cm
151cm
154cm
156cm
158cm
158cm Wide
160cm
162cm Wide
163cm
165cm Wide
169cm Wide
If you have bigger feet, you might want to have a look at getting one of the wide models, so you won't get so much toe or heel drag.
How it Rides
This review is from the 2008 model I owned – so although lots of things are the same, there are plenty of new features in the current model.
Board size: 156cm
Boots: Burton Hail
Bindings: Burton Mission set with a 22.5″ stance width, at +15 and -15.
Flex and Pop
It has a medium ish flex, which you can get a ton of pop out of. Loading up the tail for an ollie will make the board snap back nicely, which works very well on bigger jumps. Even if you are landing tail heavy on jumps, it won't want to wash out.
Edge Hold
It holds a very solid edge, even on hardpacked snow. It is what you would expect from a camber board.
Speed
The Custom is a fast board, being a camber board, stiffish flex and a fast sintered base give you a good solid feeling while riding fast.
Overall
The Burton Custom was a great board for me at the time. The stiffer flex and regular camber profile really helped me push my riding, it was how I learned to properly use my edges and get the most power out of turns.
It isn't going to be for everyone though, I can definitely understand why the Flying V version is much more popular. Compared to the Flying V, this version takes more work to ride, and will punish (catching an edge) you if you slack off. But, if you ride it properly, it is a great board that will power through turns, smash through chopped up snow and hold itself well on big jumps.
| BOARD SIZE | 148 | 151 | 154 | 156 | 158 | 160 | 163 | 158W | 162W | 165W | 169W |
| --- | --- | --- | --- | --- | --- | --- | --- | --- | --- | --- | --- |
| Weight Range | 110-150 lbs. / 50-68 kg | 125-165 lbs. / 57-75 kg | 130-170 lbs. / 59-77 kg | 135-175 lbs. / 61-79 kg | 145-185 lbs. / 66-84 kg | 155-195 lbs. / 70-88 kg | 165-205 lbs. / 75-93 kg | 145-185 lbs. / 66-84 kg | 165-205 lbs. / 75-93 kg | 170-210 lbs.+ / 77-95 kg+ | 175-215 lbs.+ / 79-98 kg+ |
| Running Length | 1080mm | 1110mm | 1140mm | 1160mm | 1180mm | 1200mm | 1225mm | 1180mm | 1215mm | 1240mm | 1275mm |
| Waist Width | 245mm | 248mm | 252mm | 253mm | 254mm | 255mm | 257mm | 258mm | 260mm | 262mm | 264mm |
| Sidecut Depth | 20.0mm | 20.5mm | 21.0mm | 21.4mm | 21.8mm | 22.2mm | 22.6mm | 21.8mm | 22.4mm | 22.8mm | 23.5mm |
| Sidecut Radius | 7.3m | 7.5m | 7.7m | 7.9m | 8.0m | 8.1m | 8.3m | 8.0m | 8.2m | 8.4m | 8.7m |
| Stance Width | 505mm | 530mm | 530mm | 530mm | 560mm | 560mm | 560mm | 560mm | 560mm | 560mm | 560mm |
| Nose Width | 284.9mm | 289.0mm | 294.1mm | 295.8mm | 297.5mm | 299.3mm | 302.2mm | 301.5mm | 304.8mm | 307.7mm | 311.0mm |
| Tail Width | 284.9mm | 289.0mm | 294.1mm | 295.8mm | 297.5mm | 299.3mm | 302.2mm | 301.5mm | 304.8mm | 307.7mm | 311.0mm |
| Effective Edge | 1122mm | 1152mm | 1182mm | 1202mm | 1222mm | 1242mm | 1267mm | 1220mm | 1255mm | 1280mm | 1315mm |
| Stance Location | -10 | -10 | -10 | -10 | -10 | -10 | -10 | -10 | -10 | -10 | -10 |
| Binding Sizes | S/M | M | M/L | M/L | M/L | L | L | L | L | L | L |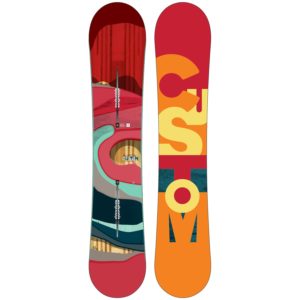 2016
2015
2014
2013
2012
2011
2010
2009
2008
From evo.com
This board is amazing wfo base lets you rage down the mountain like a pro, no doubt its truly the fastest base, holds a edge pretty much anywhere I've carved on staight ice at times, no chedder it just butters around no matter what terrain.Great on boxes and rails but it really shines in the half-pipe and on kickers, pops hard so watch yourself.This Board WILL make you better, it really allows you to step your game up knowing that the board can step up even further.SICK!