Burton Custom Flying V 2017
The Burton Custom Flying V is a less aggressive version of the classic Burton Custom.
[tabs type="tabs"]
[tab title="Description" active="true"]
Features of the Burton Custom Flying V
Flying V
The Flying V profile is made to get the best of both regular camber, and rocker styles, with the least of their weaknesses. While a camber board might be too aggressive and a rocker board too loose, Flying V is made to get a nice mix between the two. There is a rocker section in the middle of the board, between your feet, which does a couple of things. It helps to give the board a little more looseness, helps to make easier turns, and gives you a bit more float in deep snow.
Directional Shape
There board has a directional shape, so it will ride slightly nicer in the regular direction, but there still won't be any problems if you want to ride it switch.
Twin Flex
Although it has a directional shape, the flex on the board is the exact same no matter which way you ride it. So that means that pressing or ollieing will feel the same in both regular and switch directions.
Super Fly II 700G Core
The core is made up of a combination of strong and light woods, to keep the weight down but still keep it strong. The Super Fly II core is in the middle of the range of cores that Burton offer, with the lightest they have being only 500g and the heaviest being 900g.

Dualzone EGD
The grain of the core along the toe and heel edge is perpendicular to the rest of the core, to give a little more strength (and they say add edge hold).
Squeezebox
The core has a profile that changes from thick to thin, which gives it more flexible sections, as well as much stronger sections.
45 Degree Carbon Highlights
The 45 degree fiber give the board a more aggressive ride.
Sintered WFO Base
It's a hard a fast base material, that is infused with wax to keep it moving fast in all conditions.

The Channel
They work best with Burton EST bindings, but you can pretty much put any brand of bindings on a Channel board without a problem now. You get much more options for stance width, and angles with a Channel board.
Frostbite Edges
The edges extend out a little bit under your bindings, which help to give you extra edge hold on icy days.
Pro-Tip
Fancy name for tapered tip and tails, which keep the weight down and make it a bit easier to spin around.
Infinite Ride
The boards are built stronger than they need to be, and then put in a machine that "breaks in" the board. It is made so that you end up with a board that is already broken in from new, so that it will have the same flex, pop and feel from new that it does at the end of the season.
Sizes Available:
148cm
151cm
154cm
155cm Wide
156cm
158cm
158cm Wide
160cm
162cm Wide
163cm
169cm Wide
If you have bigger feet, you might want to have a look at getting one of the wide models, so you won't get so much toe or heel drag.
[/tab]
[tab title="Technical Specs"]
…
[/tab]
[tab title="Previous Season Graphics"]
[row]
[column md="4″]


2016
[/column]
[column md="4″]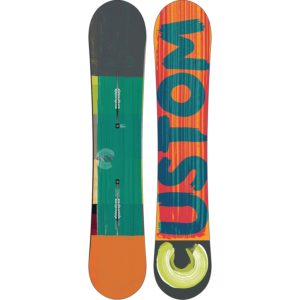 2015
[/column]
[column md="4″]


2014
[/column]
[/row]
[row]
[column md="4″]


2013
[/column]
[column md="4″]


2012
[/column]
[column md="4″]


2011
[/column]
[/row]
[/tab]
[tab title="Pictures"]
[/tab]
[/tabs]