Ride Zero 2022 Review
The Ride Zero is a new board this season, which is a unisex, asymmetrical twin that rides really nicely all over the mountain, even in terrain it isn't really designed for.
Features of the Ride Zero
Asymmetrical Twin
The heelside of the board has a smaller sidecut, which is designed to give a little extra help to heelside turns, that will still have an overall balanced feel with the toeside.
Twin Hybrid Rocker
Although I think that the name sounds a bit misleading, this profile has a larger but low camber section under your feet, with rocker on the nose and the tail of the board.
Medium Flex
Right in the middle, stable enough to handle rougher terrain, but still with enough flex that isn't too hard to press and butter.
Quadratic Sidecut
A blend of three different radii, that is designed to make and smooth and easy entry and exit to turns, as well as good grip the whole way through. On top of that, the Zero is asymmetrical, which means that there is a slightly scaled down version of this sidecut on the heelside of the board.
Biaxial Glass
Two directions – 90 degrees and 0, which gives an easy and forgiving flex feel.
Sintered Base
A sintered 4000 base material that is hard and fast, and good at soaking up wax.
Performance Core
A combination of Aspen, Bamboo and Paulownia to get a balance of strength to weight.
Cleave Edge
A thicker edge than normal, which means that it is less likely to crack from riding on rails.
Slim Walls
A 3D composite sits over a Slimewall (urethane similar to skateboard wheels), which is made to be lighter, dampen vibrations and have more efficient energy transfer to the edges.
Carbon Array Laminates
Carbon stringers that run from under the bindings out towards the opposite contact points.
Double Impact Plates
These are added under the bindings, and are made to strengthen the board, focused in the spots the board needs it most.
Flat Kick Tips
Flat tips on the nose and tail of the board.
Sizes available:
142cm
147cm
151cm
154cm Wide
155cm
157cm Wide
159cm
161cm Wide
How it Rides
Board size: 155cm
Boots: Salomon Launch Boa 27.5 and later on Vans Infuse
Bindings: Burton Cartel (Medium)
I am 6 foot tall and weigh 155lbs – or 183cm tall and 70kg. I was riding this with my Burton Cartels, set up with angles of +9 and -6, with a stance width of 21.5 inches.
I was riding this in Whistler, in a variety of conditions – deep powder, soft groomers to icy and windblown man made snow.
Camber Profile
The Twin Hybrid Rocker has a fairly large camber section that extends out just past the bindings, then with rocker on the nose and tail. The amount of camber is quite low, and combined with the rocker means that is doesn't have anywhere close to the aggressive ride of a full traditional camber ride. I guess we will see how much it changes after a few months, but I wouldn't be surprised if the camber tones down even more as the board is properly broken in.
Flex and Pop
One of the reasons that I bought this board is that it has a softer flex than my regular do-everything/park board, the Mercury. It definitely takes less effort to flex and load the tail up for an ollie, while still popping up nicely. Presses have never been something that I am good at, though at least I have the strength to be able to get mediocre presses on boxes without the tail tapping halfway through on the Zero.
When I misjudge a drop, putting the tail down early can really soften the impact, so there is enough strength in the nose and tail to save you when you need it, they won't just flex and let the board slip out.
Edge Hold
The edge hold of a brand new board is always good, and with the majority of the profile of the board being regular camber, it had a very reliable feel. Even in very hard, icy and windblown sections I could count of the board to grip.
Turns
On top of that, this was the first asym board that I have ridden in a while, so it was a nice change getting used to the much more responsive heel side than I am used to on my regular boards.
If you haven't ridden an asym board before, it isn't a major change to how it turns, but it is a nice one. Less effort on your heels, to get a more aggressive turn, though overall it does feel very well balanced when you compare it to the toe side.
Turns on powder are smooth and predictable, even when I was leaning back quite a lot.
Switch
Being an asym twin board, riding switch is exactly the same as regular, no differences in the shape or flex.
On most true twin centered boards, the only difference is the graphics, though it is a bit different for asym boards like the Ride Zero. No matter whether you are regular or goofy, it is important that you have the smaller sidecut on your heelside. To make it easy, under the bindings the board is labelled with a "Left Foot" and "Right Foot" so you can't really get it wrong.
Float
Although hardly what the Zero is designed for, I did spend quite a few days riding it in nice powder, that was between 20-40cm.
Although the shape didn't help and occasionally I would feel it trying to drag me down if I wasn't leaning back, you can't expect a twin park board to do well in something it wasn't designed for.
Speed
Although it did come with the factory wax, even from new it did look like could use a bit more, but I was more interested in riding it to see what it was like.
The first day it didn't seem that fast at all, especially when starting from a full stop. As the day went on it did seem to speed up, so it might have just not had the right wax for the conditions of the day.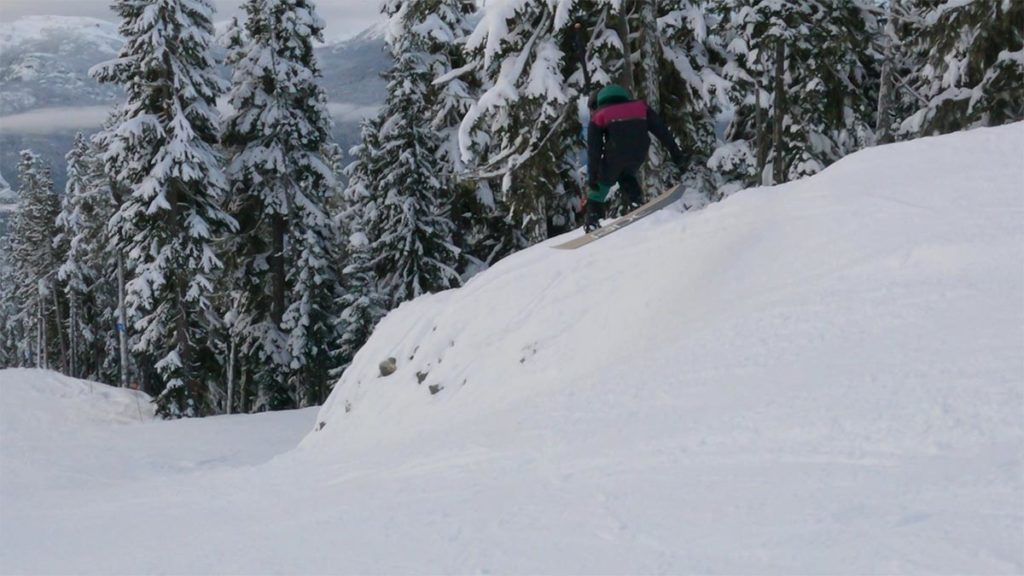 That night I gave it a proper hot wax, which from the change in colour on the base made it seem like it really needed it. The next few days it seemed noticeably quicker, like you would expect a board with a sintered base to ride. I was often having to weave in and out of other skiers and riders on cat tracks seeing that kept its speed quite well.
Overall
Even though the Zero is pretty much a park board, it still has no problems riding all kinds of terrain. It has strong edge hold on groomed runs, good pop and stability without being too stiff, and is easy to spin around.
The rocker on the nose and tail do give you a bit of forgiveness when things don't go exactly right, and I didn't ever find that I got close to catching an edge.
For park riding the medium flex is exactly where you want it to be. It pushes back nicely for an ollie, and is still stable enough when you don't land a jump with your weight in the right spot.
Normally I would detune (between the feet) any board I ride in the park, though because this has good edge hold I didn't want to do it right away. So far I haven't had any issues at all with it feeling like it wants to grab on and rails or boxes, though I will still probably detune it soon just to be safe.
I have no regrets about buying it at all, and I think in real life that graphics look really good.
Ride Zero 2022 Technical Specs
| | | | | | |
| --- | --- | --- | --- | --- | --- |
| Length (cm) | Waist Width (mm) | Sidecut Radius (m) | Tip/Tail Width (mm) | Rider Weight (kg) | Rider Weight (lbs) |
| 142 | 242 | 7.8/6.7 6.8/5.7 7.8/6.7 | 288 | 27-68 | 60-150 |
| 147 | 245 | 8.0/6.9 7.0/5.9 8.0/6.9 | 293 | 36-73 | 80-160 |
| 151 | 248 | 8.2/7.1 7.2/6.1 8.2/7.1 | 297 | 45-82 | 100-180 |
| 154 Wide | 258 | 8.4/7.2 7.4/6.2 8.4/7.2 | 308 | 57-93 | 125-205 |
| 155 | 252 | 8.4/7.2 7.4/6.2 8.4/7.2 | 302 | 59-93 | 130-205 |
| 157 Wide | 260 | 8.5/7.3 7.5/6.3 8.5/7.3 | 310 | 59-95 | 130-210 |
| 159 | 256 | 8.6/7.4 7.6/6.4 8.6/7.4 | 307 | 64-95 | 140-210 |
| 161 Wide | 262 | 8.8/7.5 7.8/6.5 8.8/7.5 | 314 | 64-100+ | 14-220+ |