I first got to try out some early Step-Ons a few years ago at a demo day, though only for a couple of runs to quickly get an idea of how they worked. After a quick run down on how to get in and out I was off. Although they seemed simple enough at the time, the instructions were needed it seems unnatural at first to have to put your heel in first, then click your toes in.
Click here for a guide to the separate boot and bindings options in the Step On range.
I couldn't remember exactly if they had the little clip on the heel cleat to hold your pants up and out of the way, but even if they did, my worn out pants with a hole in the heel did manage to get properly jammed in the binding at the top of the next lift. That is my fault, and a problem I have never run into again on my personal pair.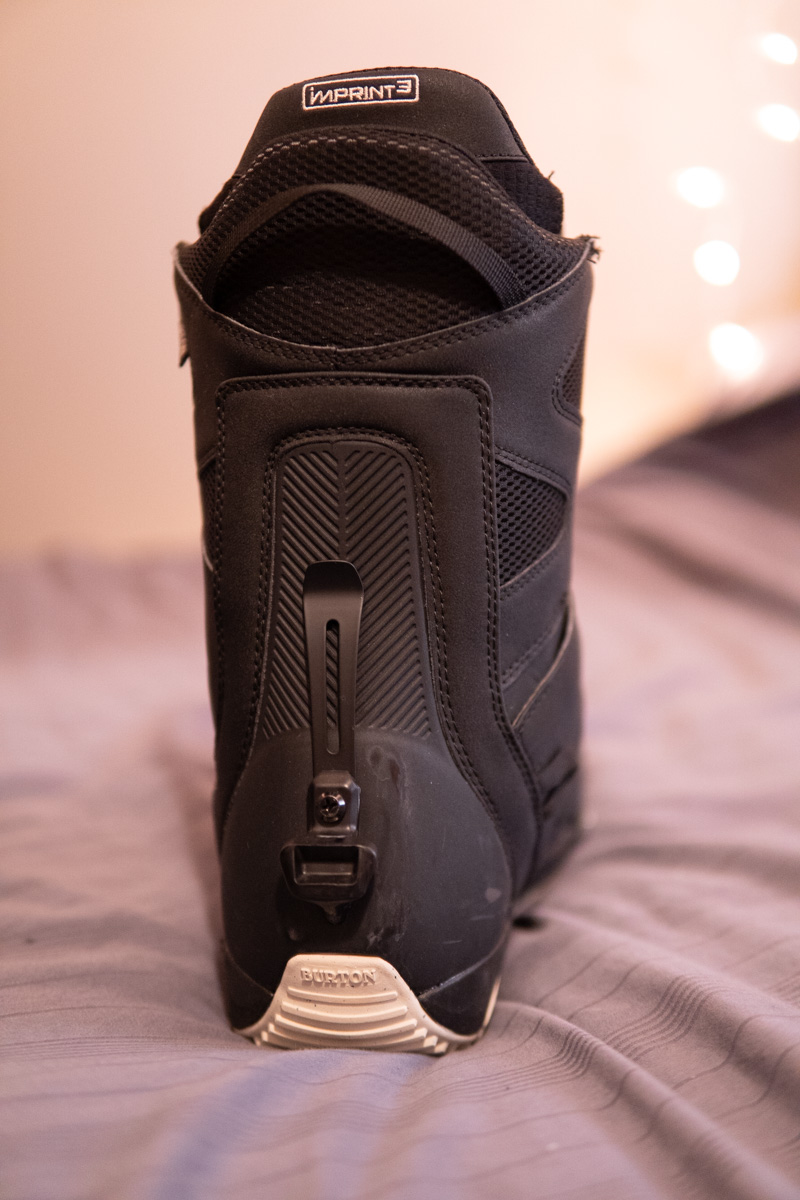 As far as the original set worked, it was fine. They clicked in and out easily, and I didn't ever worry that they felt like they could release when I wouldn't want them to. The main thing to keep in mind with the whole setup is the fit of the boots, and the boots I used didn't fit me that well. It was good to try them out, although at the time I didn't see any reason for me to buy them for myself.
The 17/18 ones had a couple of issues, that were fixed with an updated heel cleat.
I have been using Cartels for quite a few years, and like having a binding that is more responsive. While the standard bindings are a bit soft for my liking, I was more interested when the X versions were added.
What makes Step-On X bindings different?
Basically everything in the Burton range that has an "X" in the model name is the stiffer version, or more aggressive version.
Eg Custom to Custom X, Cartel to Cartel X, Step On to Step On X
In this case they have added carbon to the highback and baseplate to stiffen both parts of the bindings up.
Step-On X Features:
Baseplate: Single-Component, 50:50 Carbon Fiber/Nylon Composite Blended
Hi-Back: 50:50 Carbon Fiber/Nylon Composite Blended, FLAD™
Response: 5 – 7 (Medium)
Cushioning: Re:Flex™ FullBED Cushioning System
Compatibility: Compatible with all Major Mounting Systems
Features Re-Ground Materials to Reduce Waste
Burton Binding Warranty
The most important part
I'd say the most important part of a snowboarding setup is the boots anyway, but especially with Step-On seeing that you are locked into a small range of boots. There are a few more options now with DC Control and Judge boots, so if you have a foot shape that doesn't suit Burton you might still have some luck.
It isn't a problem for me, as my feel fit well in Burton boots. I needed double boa, or at least something that would help lock my ankles down, so it was between the Photon and the Ion. The Ion was my top choice, but they were just too expensive.
All of my reviews are unbiased, which means that I either buy or borrow everything to test out, so it isn't like companies just send me piles of stuff in exchange for a good review.
My plan was that if end up hating the Step-On X, I will just sell them as the demand is always quite high, or if they are good I will just continue to ride them.
The Photon Boa boots have been great for me so far. They fit very well, are warm and comfortable and have a good flex rating that suits me well. I have read a bit about people complaining about "hot spots", though I had zero problems with that.
Like any boots, you really want to try them on in store to make sure they fit, especially if it is a new brand of boots for you.
Getting in and out
Getting into the bindings does seem to work a different way to what I first imagined. Rather than toes in the heels, you need to click the heel cleat in first, then the toes.
There are two positions for the heel connection, with the first one is quite easy to click into. If it is your first run of the day and there is no snow of your footbed you might be able to get the second click straight away, otherwise you will normally hear it clicking in on your first heelside turn or once you have all of your weight on the board.
Getting in and out in powder
Being realistic, strapping into a board in powder is a pain with regular bindings, and it still is with Step-Ons. The main difference with regular bindings is that you can get by with leaving some snow under your boot, and it will still work fine – you just won't be able to tighten the straps up as much. Having snow under your boot changes the feel of everything, so it is never ideal.
The process is roughly similar for Step-Ons in deep snow. Unlike regular bindings, you will need to make a solid platform of snow under the board, because you will need to push down hard to get the boots to click in.
Even if you do a good job clearing your boots and the bindings of snow, it is unlikely you will easily get the heel locked into the second position. Once you have the first click, as well as the toes you can try and force your weight down to get the second click, but that is hard to do in soft snow. I would normally just start riding, sometimes it will click itself in, or you can just get by fine in the first position.
Getting out doesn't take too long to get used to, but it does feel unnatural at first. Pull the lever, lift your heel up and while keeping your toes locked in you can bring your heel towards the middle of the board and the toes will smoothly release.
Not many people will talk about this, but you need a solid or almost flat section of snow to get in and out of the system. That isn't usually an issue at the top and bottom of lifts, but you will find yourself slowly sliding around while trying to align the boots. Of course you can "fix" this by sitting down, but then you have cancelled out the entire point, you might as well just have normal bindings.
This is solved by learning to get in and out while moving, which isn't as hard as it seems after a bit of practice. One problem is that beginners seem to be really attracted to the idea of Step-Ons, and it is going to be a steep learning curve to get in and out while you are still learning board control.
How they ride
I have no problems at all with how they ride. Although the "feel" is quite different from my Cartels, they are very responsive, but in a different than expected way.
I assumed that they would feel very responsive on heelside turns, and less on toeside (with no ankle strap). The opposite turned out to be true, they had a very direct feel on toeside turns, which does make sense seeing that the boots are mounted/connected so low on the heel, and there is zero slack. That isn't to say that heelside turns felt sloppy, it was more that I was impressed with the toes.
Compatibility
They come with a newer style Re:Flex disc, that lets you mount it on regular 4×4 board as well as boards with the Channel.
The older bindings came with two sets of discs, one set for regular boards and one set for Channel boards. The difference is that on the old discs 3 positions for mounting – forward, centered and backward.
The new disc combines both into one disc, which still has all the options you need to position the binding properly on the board. In the photo above you will be able to see the line running through some of the mountain positions on the disc.
This gives you the option to mount the board in the centered position (with the screws running through the line). You can move the screws to the position behind the line if you want to mount the bindings forward. If you need to mount the bindings backwards, just take the disc out, rotate it 180 degrees and you now have the mounting options for centered and back.
If you really needed to you could order the Re:Flex discs with the 3D pattern to mount them on an old 3D board – but I can't imagine that too many people are trying to mount brand new Step-On bindings to boards from 15 years ago.
Adjustments
Forward lean can be adjusted with a regular screwdriver, though I never touched mine.
The footbed/gas pedal whatever you want to call it needs to be adjusted to whatever size boots you are wearing, so that there is minimal slack or gap at the toe cleats.
Issues with burton step on bindings
*Since writing this, the design has been updated*
The current version of Step-On bindings have a different style toe cleat, which gets rid of the annoying noise. All versions of the binding now have the filled in toe-cleat part. If you look on the Burton site here, you will see that there are flexible plastic parts filling the section where mine was clear.
You will definitely be able to hear it in the video review, but the clicking noise drove me crazy. It didn't happen everyday, but when it did it ruined the riding completely. Whenever you shift your weight there is a clear click from any of the 4 toe cleats, which can happen multiple times a second.
From what I have heard it is because there is a little bit of slack needed in the toe cleats, and the click is the boot jumping in different positions as the bindings flex, or as the boots rotate in the bindings.
Some days it didn't happen at all, so it seems like it is quite dependant on the temperature and amount of moisture in the snow. It seemed to be very bad at around -10c, especially in dry snow.
I couldn't find any information on this when I originally posted the video, though I got plenty of comments on how rubbing wax on the cleats solved the problem. That advice worked great, I would rub a small block of whatever wax was lying around on the metal cleats, and the clicking completely disappeared. I guess that the wax on the metal helped it to slide a little more smoothly against the binding, enough that it wouldn't make the noise.
There are plenty of people who commented just say to ignore the noise, but I expected better from a more expensive setup. That being said, rubbing the wax on it is not such a big deal.
I believe that the newer models released this year will have this problem fixed, but I still don't know how something so annoying made it to production, surely that came up in the testing.
Who are these aimed at?
I really don't know who Step-On X bindings are designed for. Step-Ons seem to be really liked by a few groups of people:
Older riders who struggle to bend down so easily
Beginners who think it is an easier system
People with plenty of money who just want the newest and fanciest gear
That all makes sense for the regular Step-Ons, but I would assume that most riders who want a stiffer setup would stick with something more traditional.
Overall
Could i recommend Step-On bindings? I can. I found myself using them more often last season than my regular bindings, because the boots are so comfortable, and getting in and out is very quick and easy. Aside from rubbing wax on the toe cleats, they were hardly ever touched.
If the newer models fix the clicking noise, and you don't mind being locked into a boot and binding system, then they work well and do the job that they say they will.
Since originally writing this, there are now quite a few more options for both bindings and boots. Read more about it at Burtons site here.