Bataleon Wallie 2021 Review
The Bataleon Wallie is a super soft park and jib board, that makes pressing and buttering as easy as it could ever be. It does have a unique looking nose and tail, and each size comes in a different solid colour.
Features of the Bataleon Wallie
Jib 3BT
The Jib version of the 3BT base shaping has the widest center base, but still has the corners/contact points of the board lifted for the looser feel. Comparing it to other Bataleon boards, the extra width of the Jib 3BT makes it a bit more stable for presses, as well as 50-50's on rails.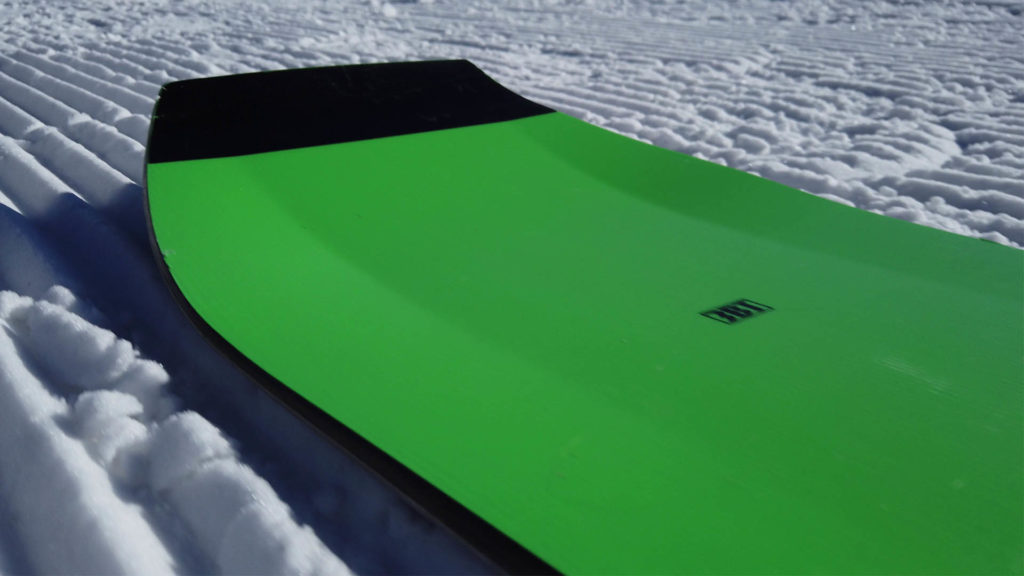 Twin Shape
The Wallie is a proper twin board, so the nose and tail are exactly the same, it is just the graphics that change.
Low Camber
There is a small amount of camber in the Wallie, though in real life it is quite subtle – very close to a flat profile.
SideKick
The SideKick feature is an even more exaggerated part of the lifted edges at the contact points of the board.
Super Tubes
Wallie Tips
The tips of the Wallie are bent up much more than a regular board – though in real life I don't really know how that will help, even for park riding.
Biax Laminate
Two directions of fiberglass, which is a soft and easy to flex, and gives the board plenty of torsional (twisting) flex.
Light Core
The core is a 50/50 mix of paulownia and poplar that give a good balance of strength to weight.
Central Super Tube
Carbon Stringers
Stringers running from edge to edge just outside of both bindings.
Super Slick X
The key part of the name is the "X", which means that it is a cheaper, slower extruded base. They are a pretty common feature of jib boards, that keeps the price of the board down a bit, and is easy to repair when you do damage it
Solid Walls
Regular solid ABS sidewall materials.
How the bataleon wallie Rides
Board size: 151cm
Boots: Salomon Launch Boa 27.5
Bindings: Salomon Highlander
I rode the Wallie with a fairly narrow stance, with my front foot on the narrowest inserts, and my back foot on the recommended, with angles of +9 and -6 degrees.
The snow conditions were not super cold, but the groomers were still quite firm, though it didn't take much effort to get a good edge in.
Camber Profile
While technically all Bataleon boards have some camber, the Low Camber of the Wallie means that in real life, it is pretty much flat. Combined with the 3BT, it has a very loose feeling when you are riding it with a flat base.
Flex and Pop
Although Bataleon give the Wallie a Tip to Tail flex of 3/10, and a Torsional flex of 2.5/10, overall I would have to say overall it would be a 1/10 – if this isn't the softest board you can get, I don't know what else there would be.
It is by far the easiest board to flex and press that I think I have ever ridden. When riding it I could tell that I had a decent feeling press going, but it wasn't until I saw the footage after that showed just how high it got with almost no effort.
It does take quite a bit of getting used to, as normally for a nosepress I shift my weight forwards and into the nose, though I had to be careful not to just roll over the nose, as it gives you no support or feeling of pushing back like a normal board does. It is so soft that you could easily just "cheat" a press and pull your leg up, rather than try to do it properly.
Edge Hold
For a board that has barely any camber, and a crazy soft flex, the edge hold is not too bad. At slow to medium speed, it had a reliable feel, and I felt I could rely on the board do do what I wanted, and grip where I needed it to.
When it got to faster riding, the edge hold was decent until I started to do more aggressive turns – it did sometimes slide out from the odd bump, and I could never feel that confident it would hold through a fast turn. Not that you can expect a soft jib board to be any good at that though…
Speed
When I was riding the Wallie, it was a fairly firm and fast day, and even though it has a standard extruded base, speed wasn't a problem. It was waxed before I rode it, though even after a couple of hours riding, the black sections of the base were clearly grey – faster than I would have expected for a board with a base like this.
Switch
It's a true twin, so like you would expect riding switch is no different at all from riding regular.
Overall
Overall the Wallie rode slightly better than I would have expected from a board with its specs/features.
If you want a really really soft board that makes buttering and presses as easy as possible, this is the right board for that. Although the presses are easy, they do take some getting used to, I had to tone everything down to not roll straight over the front or wash out.
Being a jib board made for park and rail riding, it is a pretty standard to have the cheaper low maintenance extruded base, but the Wallie isn't that cheap – and quite a few other brands are putting sintered bases on their park boards at a cheaper price point than Bataleon do.
I don't think you could argue that the Wallie isn't fun – if you want to mess around, butter and try new tricks the 3BT and soft flex give you all the looseness you would need. Although simple, I think the graphics/colours are great on every size (each size has a different colour).
As long as you know you are getting an extremely soft board, and don't expect too much performance from it, the Wallie could definitely be a fun choice.
Similar boards:
2020
2019
2018