Bataleon Surfer LTD 2021 Review
The Bataleon Surfer LTD would be the most expensive board that I have ever ridden, and although I had heard good things, I was still really surprised about how well it rode. The LTD is the special limited version of the Surfer, with an upgraded base and lighter core, with only 150 being made.
Features of the Bataleon Surfer LTD 2021
Pow 3BT
Air Ride
Just found on a few of the high end Bataleon models, they dampen the vibrations and keep the board riding smoothly at high speed.
4/10 Flex
Super Tubes
DRST stands for Dual Radial Super Tubes, that are hollow carbon tubes inserted into the core fo the board, that add to the pop and reduce the weight of the core.
Sidekick
Triax Laminate
A three was weave of fiberglass that is light, strong and responsive. It gives the board a more responsive feel than the simpler two direction Biax fiberglass.
Super Ultra Light Core
The lightest base that Bataleon make, it has 80/20 Swiss paulownia and poplar wood to get the lightest strength to weight balance.
Carbon Stringers
Nano Speed S Base
A very fast ISO-Sport 7000 base.
Directional Tapered
Sizes available:
The LTD version is only available in those two sizes, but the regular version of the Surfer comes in 138cm, 149cm, 154cm, 159cm and 162cm.
How it Rides
Board size: 154cm
Boots: Salomon Launch Boa 27.5
Bindings: Burton Cartel
This review is based on me riding the 154cm Surfer, on a perfect day for testing a board out. A little bit of snow the night before kept the groomers fast, and up at the top of the mountain much more snow had blown in than had been expected, making nice it very soft.
I was riding with my Burton Cartels, with my regular angles of +12 on the front foot, -9 on the back foot and a stance width of just under 22 inches. I am 6 foot tall, and weight 160lbs or 72kg.
Camber Profile
There is just a little bit of camber in the Surfer, that Bataleon name Mellow Camber. On top of that, I didn't really know how much support or pop I was going to be able to get out of the crazy swallowtail.
Flex and Pop
Although Bataleon rate it as only having a 4/10 flex rating, it never felt too soft for me. It was snappy and responsive, and there is plenty of push back in the tail of the board. Although I was initially a bit worried about how hard I could push into the tail, after a few laps I treated it like any other board and it worked as well as any other.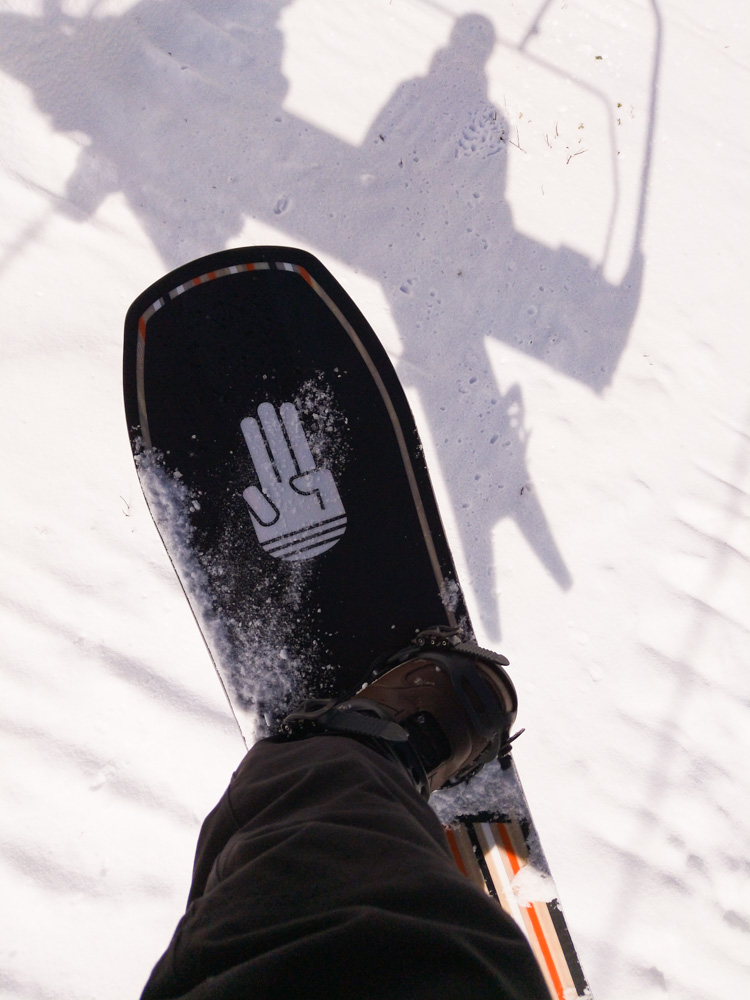 Edge Hold
I wasn't expecting to get much edge hold from the Surfer, as I knew that it didn't have much camber, and there is such an exaggerated spoon shape/3BT in the nose, that I thought it would have a much slower and looser feel on groomed runs.
Float
The float of the Surfer is great – which you would expect. The tail sinks nicely into soft snow, but it doesn't have that "short/wide" feel of a volume shift board, so while it still has a surfy feel, big wide and fast turns seem to come around as naturally as short quick turns.
The giant nose works like you would expect it to – it keeps the board floating without any effort, and makes turns start very easily.
Speed
The base is very quick (like you would hope it would be on a board this expensive), but I was quite surprised about the overall feel when I was riding the Surfer fast. Even with the very exaggerated 3BT on the nose and swallowtail shape, it felt much more stable and solid that I would have expected. I haven't found any other Bataleons (with the smaller amounts of 3BT) to be very stable at all, so this was a nice surprise especially for a board with Pow 3BT.
Pros:
Looks great
Very fast
Stable at high speed
Very good edge hold
Cons
Super expensive
I worried about other people hitting the tail in lift lines
Overall
I was very impressed with the Bataleon Surfer LTD. I am not normally a big fan of 3BT as it seemed to make the boards feel slower to react, and I normally like a quite direct feel to a board. With the very wide and very shaped nose, I first thought that although this would probably be really good in powder, that it would struggle on groomed run. I am not sure how it does it, but the Surfer rode just as well on the groomers as it did in powder, so maybe the 3BT starts further up the big nose? I also never got the loose and washy feeling that I was expecting, which was a very nice surprise.
Price
The huge price (and limited number) would make this into a board that would almost be something to hang on your wall, but if you have plenty of money, it is a super fun board that does well in much more conditions than you would expect.
I would love to add this board to my rotation, though realistically even buying the regular version would be quite a stretch. Before riding it I never would have considered it, but it is surprisingly good.
Similar boards:
2020