Since the Orca was introduced a few years ago, it has become very popular and there are now options in plenty of sizes, as well as a few different models.
The regular Orca is a volume shift board, which means that it is much shorter and wider than a regular snowboard. Think of it like taking a big powder board, and squashing it down into the short and wide shape.
Orca Sizing
Make sure to follow their size guides, for example if you are looking at the regular Orca and you ride a 157cm board normally, go down to the 153cm. If it turns out you fit into two sizes – if you ride a 156 normally you will fit into both the 153 and the 150. Then you need to decide if you want a shorter and surfier option, or a bit longer with a bit more stability.
| | | | |
| --- | --- | --- | --- |
| Lib Tech Orca | Lib Tech Golden Orca | Lib Tech Apex Orca | Lib Tech Orca Split |
| -3 to -6cm | -1 to -3cm | -3 to -6 | -3cm |
There are a couple of advantages that volume shift boards have – you still have a large surface area so the float in deep snow is good, and the shorter length gives the board a surfy feel, which can make tight turns in trees a lot easier than on a long board.
The trade off is that the wider width slows down the edge to edge speed of the board (swapping from a toe side turn to a heel side), but that is minimised by having quite a large taper.
The difference of the width of the nose to the tail is called the taper, and most of the main sizes of the Orca have around 10mm of taper.
The camber profile of the Orca is called C2x, which has a rocker section between your feet, a small aggressive camber section in the tail and a toned down camber section in the nose.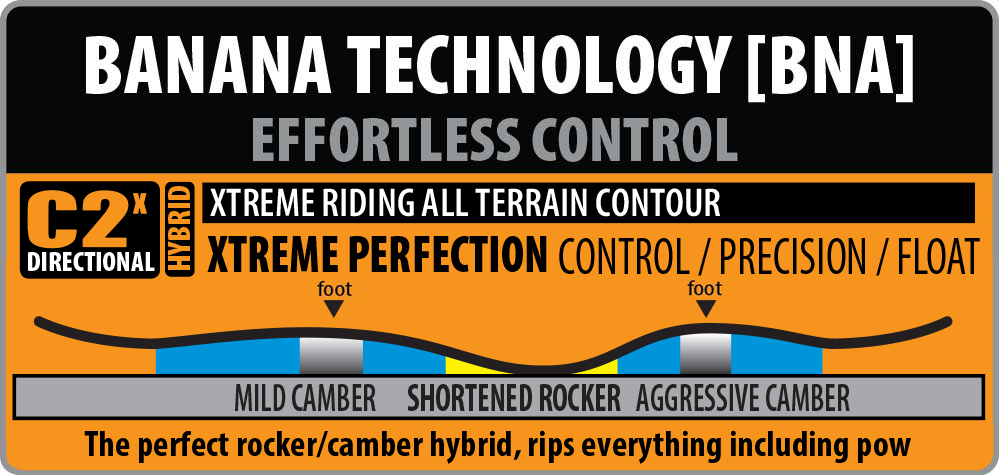 So basically, the Orca is a short, wide, tapered directional board that is made to do especially well in powder.
The most important part, and the thing that is hardest to get your head around is to make sure that you are riding the Orca in the right size, which is going to be much smaller than most boards.
How Lib Tech boards differ in construction
There are five separate construction sets that Lib Tech boards are built from, ranging from cheaper and heavier with basic features, all the way up to light high performance pretty expensive options.
The most basic, and the cheapest is the Original Power Construction. You don't have to worry about that one much, because that construction isn't used for any versions of the Orca.
The next step up is the Horsepower Construction, so a bit lighter than the Original, with less Aspen and more Paulownia wood used.
After that is the Firepower Construction, which adds 10% balsa to the core (just a little bit between the bindings), and adds basalt to help absorb vibrations and smooth out bumps.
Higher than that is the Apex construction, which is a mix of Aspen, Paulownia, PET recycled plastic bottles and the small amount of balsa. Lots more carbon in this version, so it is the lightest, but also the snappiest.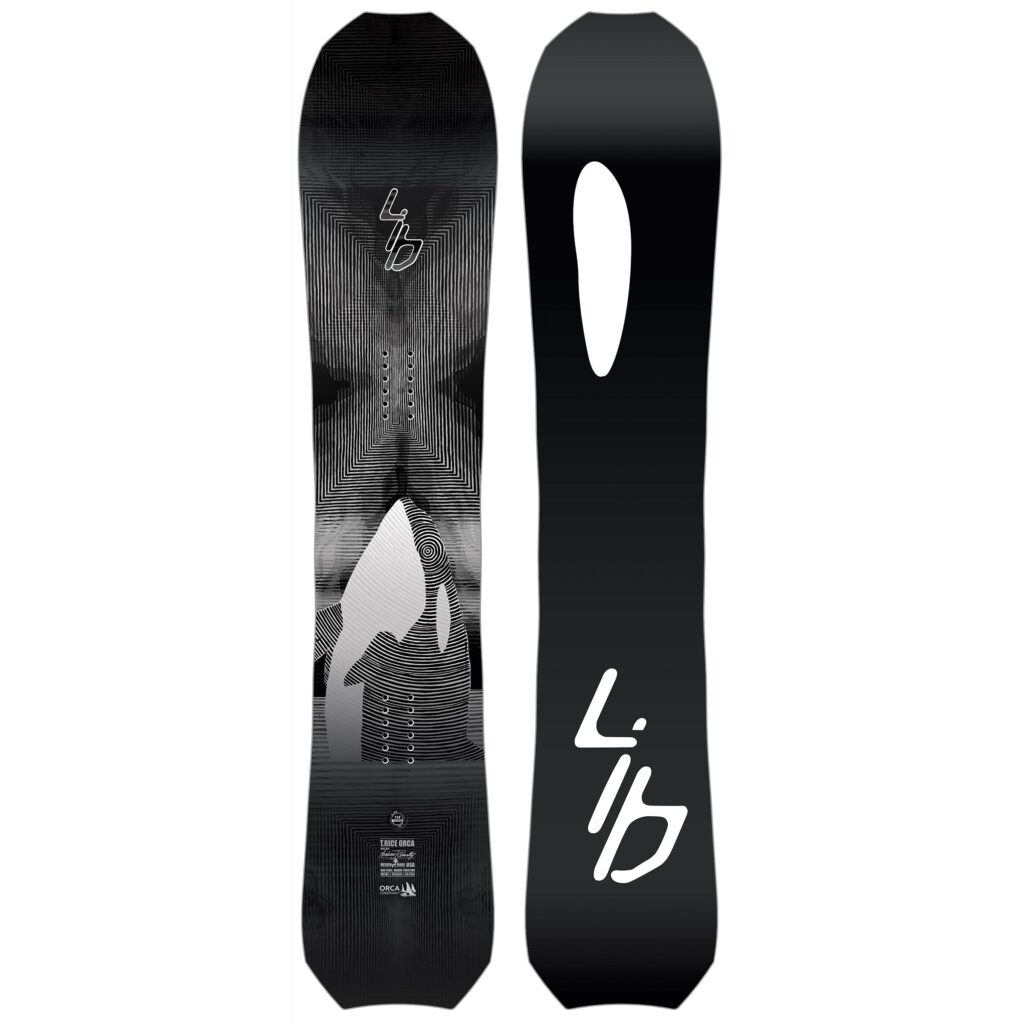 $699
Although this first came out in just the 153, since getting so popular there are now sizes for everyone.
Make sure that you would size down between 3 and 6cm from what you normally ride. Have a good look at the weight range.
Sizes of the Lib Tech T.Rice Orca with weight recommendations
138cm 90lbs+ / 45kg+
144cm 100lbs+ / 50kg+
147cm 110lbs+ / 55kg+
150cm 120lbs+ / 60kg+
153cm 130lbs+ / 65kg+
156cm 140lbs+ / 70kg+
159cm 150lbs+ / 75kg+
162cm 160lbs+ / 75kg+
Read more about the Lib Tech Orca
$799
The Golden Orca has the upgraded Firepower Construction compared to the regular Orca, and although still a directional shape, it is closer to a twin.
The main differences in this will be the addition of balsa in the core, as well as basalt to help dampen the board.
If you still want good float in powder but with a bit more help riding switch, this shape might be a better fit.
Sizes of the Lib Tech T Rice Golden Orca with weight recommendations
Size this one down 1 to 3cm from what your normally ride. There isn't as much of a need to go as small as you do on the other models, mostly because this of the different shape.
150cm 110lbs+ / 60kg+
153cm 120lbs+ / 70kg+
157cm 130lbs+ / 70kg+
161cm 140lbs+ / 75kg+
Read more about the Golden Orca
$1199
This is the top end version of the Orca, which has the Apex Construction. On top of having balsa, there is also quite a bit of PET recycled bottles in the core, with lots of carbon/carbon mesh.
Although it is light, expensive, responsive and damp, it will do its best work in proper powder, and isn't designed to be board that will do well on chopped up resort snow. Think of it more like a sports car.
Sizes of the Lib Tech T Rice Apex Orca with weight recommendations
Size this one down 3 to 6cm from what you normally ride.
153cm 120lbs+ / 70kg+
156cm 130lbs+ / 75kg+
159cm 140lbs+ / 75kg+
Read more about the Apex Orca
$999
A different core from the others, which is 95% paulownia and 5% aspen, as this has a very different job than the solid boards.
Sizes of the Lib Tech T Rice Orca Splitboard and weight recommendations
Size this one down 3cm
150cm 120lbs+ / 60kg+
153cm 130lbs+ / 70kg+
156cm 140lbs+ / 70kg+
159cm 150lbs+ / 75kg+
Read more about the Lib Tech Orca Splitboard
| | | | |
| --- | --- | --- | --- |
| Lib Tech Orca | Lib Tech Golden Orca | Lib Tech Apex Orca | Lib Tech Orca Split |
| Directional Tapered | Directional (closer to twin) | Directional Tapered | Directional Tapered |
| Horsepower Construction | Firepower Construction | Apex Construction | Split Construction |
| The original | Closer to a twin | Light, expensive, snappy | A split option |
| $699 | $799 | $1199 | $999 |
| Buy links | Buy links | Buy links | Buy links |